Rowdy Outfitters
Powder Coating and Hitch Covers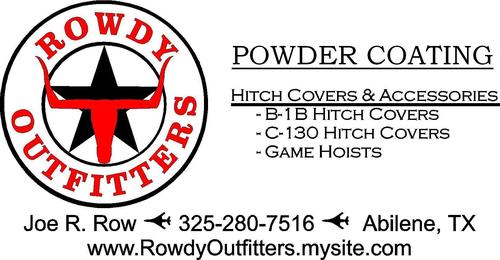 For your Metal Cutout Hitch Covers and Powder Coating of Small Item needs, you are in the right place.
Just an update as of 06/26/2012, I have been trying to obtain a larger oven for the Powder Coating. My work and family schedule has been unpredictable and extremely busy the past four months. Please bear with me and as soon as I get a larger oven, I will be able to do larger items. Thanks, Joe
Welcome to Rowdy Outfitters. I make Aircraft Metal Cut-outs for Hitch Covers or to stick on your vehicle, and I do Powder Coating of small parts. I pay close attention to quality and detail in the work I do. Please browse through my website. If you are interested in any items I have or would like something Powder Coated, please feel free to email or call.
Joe R. Row
Rowdy-Outfitters@wtxs.net
325-280-7516
Abilene, TX